about us
We are a committed Company capable of delivering all your electrical requirements to the highest possible standard.
Since establishment in 2012, and with many collective years of commercial business under our belts, we have earned a reputation for reliability and excellence of work.
Our work covers projects from small scale office refurbishments to new build multi million pound PFI hospitals.
We have a superb record for winning repeat business from our clients due to our flexible approach, the consistent quality we deliver and our ability to integrate with their site teams.
People
We employ a dedicated staff, many of whom have worked for BST since our conception. Our workforce comprises of JIB Technicians, Electricians and Apprentices, all of whom hold CSCS cards and have been trained in the safe use of the equipment they work with.
Our current workforce includes 11 Technicians, 58 Electricians, 34 semi-skilled, 4 apprentices, 8 Project Managers and 5 Office staff. It is our intention to increase the number of apprentices we employ in order to bring new, enthusiastic talent into our business.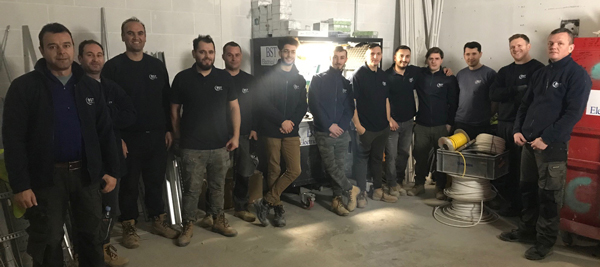 Mission
Our mission is to be a UK leader in our Industry. Our aim is to continually improve our services to meet our customers' needs, allowing us to prosper as a business whilst providing a fair return to our stockholders, the owners of the business.
Values
How we accomplish our mission is as important as the mission itself. Fundamental to success for the Company are the following basic values:
People – Our people are the source of our strength. They provide our corporate intelligence and determine our reputation. Involvement and teamwork are our core values.
Products – Our product is the end result of our efforts, and should be the best in the industry.
Profits – Our profits are the ultimate measure of how efficiently we provide customers with the best products for their needs.
Quality Comes First – To achieve customer satisfaction, the quality of our service must be our number one priority.
Customers are the focus of everything we do – Our work must be done with our customers in mind, providing better products and services than our competition.
Continuous improvement is essential to our success – We must strive for excellence in everything we do: in our products, in their safety and value – and in our services, our human relations, our competitiveness, and our profitability.
Employee involvement in our way of life – we are a team. We must treat each other with trust and respect.
Customers and suppliers are our partners – The Company must maintain mutually beneficial relationships with customers, suppliers and other business associates.
Integrity is never compromised – The conduct of our Company must be pursued in a manner that is socially responsible and commands respect for its integrity and for its positive contributions to society. Our doors are open to men and women alike, without discrimination and without regard to ethnic origin or personal beliefs.